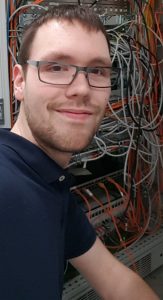 I got the opportunity to play with EVE-NG last week. Luckily this was running on a DL360G7 – just as my ESX 6.0 Server so I can compare both of them very well 🙂
Getting EVE-NG to run was pretty easy – I downloaded the "bare metal" iso, installed it on the Server and it was ready to go.
I installed a fresh ESX 6.0u3 on the other Lab-Server to make sure, that both of them are fresh installed.
I created 6 vSRX and 2 vMX – the vQFX was not part of this Setup.
First Test – boot-time:
ESX 6.0 took about 1 minute from the moment I pressed the power button to the login screen – pretty solid.
EVE-NG needed about 30 seconds – damn that thing was fast 🙂 Thanks to the Ubuntu 16.04 EVE-NG starts up very fast.
Second Test – boot the whole lab at once (powering up all 10 Machines):
ESX 6.0 took about 10 minutes until every VM was powered up and had the login prompt. All Devices were blazingly fast after booting.
EVE-NG took about 30 minutes until I could login to each VM – however the VM's were practically useless, since the login itself took about 5mins. After 2 more hours all Devices reacted somehow fast – but slow compared to ESX. I searched the Forums but couldn't find out why.
Third Test – the Resources:
ESX 6.0 needed around 40G of RAM and around 50% of all usable 16 CPU-Cores.
EVE-NG needed around 70G of RAM (don't ask me why) and needed almost 100% of all CPU Cores.
Fourth Test – access:
ESX needs the Web-Client or the ESX-Windows-Client.
The Windows-Client is not installed on every PC – so "Lab-Everywhere" is not possible. The Web-Client is an Option.
EVE-NG comes with a HTML5 Web-Client – easy to access from everywhere – also EVE shows a Visio-like Lab-Topology with drag and drop – this is a huge plus compared to ESX.
All in all I will stick to the ESX-Server because of multiple reasons:
+ ESX itself runs very smooth and is well known by me (compared to KVM)
+ The Resources were way too much on the EVE-NG (I could run about twice as much Devices for the same resources)
+ ESX needs less time to power up the whole Lab. My Lab runs mostly on Fridays. So I power my Server down after labbing – I don't like the idea of powering it up at Thursday evening just to waste my money (Power-Bill) to be able to lab on friday – that feels wrong…
Of course there are still ways to tweak both Hypervisors – a tweaked ESX runs all the Test-Devices at about 10% CPU – I can't tell what a KVM will do.
Hopefully this gives you a small overview of both Systems