This morning something exciting happened: Thanks to Alain, the Head-Dev of EVE I got my Hands on a "Trial-License" of EVE-NG-PRO, which will come out very very soon. This Post will review some Features and my Lab-Tests. Stay tuned and watch eve-ng.net for News about the Release-Date – if eve PRO is out, you will see it there.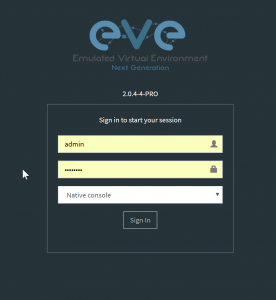 As you can see, EVE-PRO will start with Version 2.0.4-4 and you will be greeted with 3 Modes:
+ Native
+ HTML5
+ HTML5 Desktop
Native and HTML5 are well known from the Community Edition. HTML5 Desktop is based on Docker and in my Opinion the world's greatest way to Lab – this will change everything…
After Login to HTML5-Desktop you are presented with the "Full-blown" Desktop of your labbing Dreams. It has Wireshark over RDP so you don't need to install Wireshark on your PC, which is G R E A T if you want to Lab at Work, where you are usually not allowed to install Software or access ssh or access any "cli-opening" commands. Isn't this just awesome? Now EVE brings the Term "labbing everywhere" to a whole new Level. Regardless where you are – even at the Hotel-Bar, where you only have Web browser access – you can login into your Lab and do whatever you want.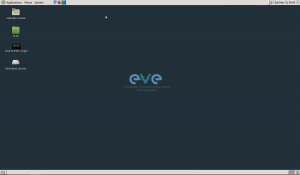 I was amazed, how smooth this actually works – Docker runs really nice on Ubuntu 16.04LTS which EVE is based on. It comes with Firefox and Chromium installed, however Firefox is preferred and used by default. So from HTML5-Desktop you are able to do some things:
+ run EVE in Firefox in Native or HTML-Mode and work normally on it
+ ssh into your EVE-Host and access it's CLI (for upgrading or downloading new Software etc.)
I started my JNCIE-SEC Lab and tested the Capturing on ge-0/0/1 – worked like a charm – I could see all packets as they would flow in real-life – and all this from my Work-PC which is very strict. No Problems at all.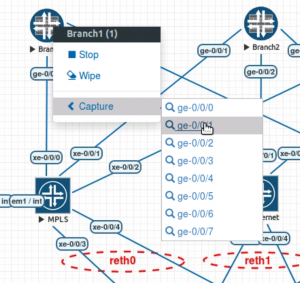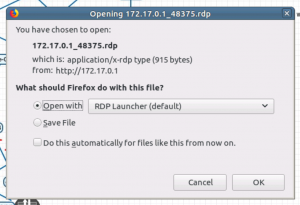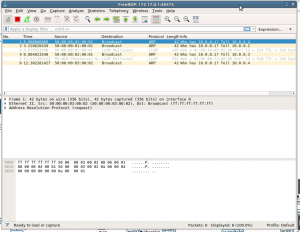 My Lab runs smooth as always – and now there is a shiny new "Docker" node running 😉
Also a new feature ist the NAT Network – you can now add a NAT-Network to your topology – it runs a DHCP-Server for your nodes to fetch an address and access the Internet through the EVE-hosts IP – great if you want your V-Appliances to fetch the latest updates.
Another nice Feature is the possibility to close a running Lab and go to a second Lab. I often had the problem, that due to extremely long boot-time form y full-blown Lab I wouldn't close my full-blown Lab to test some other things real quick – no more do I have to worry about this. Running labs can be accessed again at any time and are placed under "running" folder.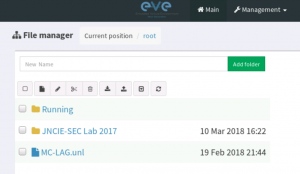 What I also like is the new "hot add"-Link Feature – you can now finally delete and add links while the Devices are running. I tested this 6 times – 5 times from Juniper to Juniper it worked very nice – one time I had to disable the interface at the cli and enable it again – but since I shut every Interface that I don't use in real-life also, this is not a problem – after enabling the Interface everything works fine – another sweet feature, which mainly helps my "laziness" to stay lazy – and for quick-testing this feature is really handy – add a note, enable some interfaces, hot-add-link, test and after test, simply destroy – you can pop-up parts of the Lab now in no-time.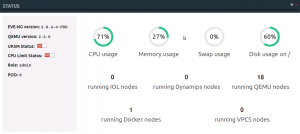 I was honored to get the chance to test eve-pro and of course I will be one of the first to buy eve-Pro as soon as it gets out to support the amazing devs for this in my opinion "Masterpiece of Lab-Technology". Stay tuned – in the coming days I will test EVE-NG-Pro "Bare" VS ESX 6.5 for labbing and do some "pressure-tests" on PRO.