The end of the year is near, and it's time to reflect a bit about what happened in 2019 in terms of Certification in the Industry of Networking. And there was some shocking, almost ridiculous news this year. Some of you might have heard it – Cisco "Re-Designed" their Certification Track for the CCNA, which will become active in 2020, and they will also introduce a "Cisco Specialist" between the CCNA and CCNP. I wonder whom they try to copy with this "CCNS" 😉 However, they seem to have failed.
How you might ask? Let me explain this a bit. If you look at the new Certification Path it looks like this: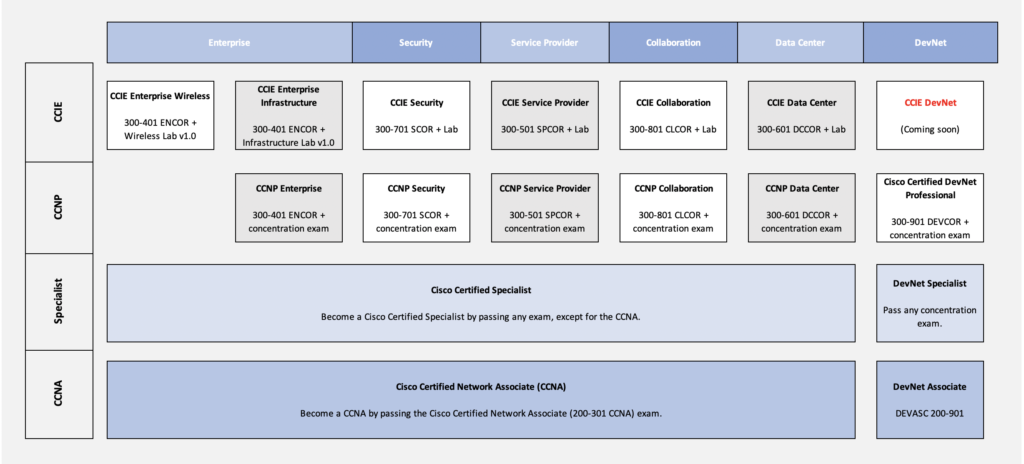 Noticed something? The CCNA and "CCNS" are spanned over ALL the 5 Topics. We live in a world where AI will sooner or later dominate the "Allround-IT-Guys," and Cisco is trying actively to make new network engineers allrounders… When I heard the news, I was shocked that they seem to forget where they came from and why everyone pursued the CCNA Tracks – because the Tracks started at the very basic in every Topic.
Unfortunately, they seem to have forgotten the benefit of specialization. Specialization is essential and needed because that's where the difference between "I know the basics" and "I KNOW the Basics in my field" will happen. Who needs an engineer that knows all topics "at the surface" up to the Specialist Level? This is what a good AI can do (and replace) today – I don't need someone to tell me that OSPF is down, I don't need someone to tell me that my phone is not working because a VLAN is missing somewhere… And most of all: I don't care about collaboration if I work inside a SoC with no Telephony or WiFi at all – instead, I want to learn about the Security-specific Topics to build my Security career from the very beginning.
It makes the CCNA "worthless", in my opinion, and that's the main reason why I let my CCNA expire earlier this year – because it tells you NOTHING about my actual knowledge inside the area that I work in.
Network Engineers need to take a step back from "I know everything a bit" because allrounders are no longer demanded and needed because we have software for that. Even a monkey can operate such software – we need to make the shift towards "I'm a specialist in my area, and no one can fool me there."
That's what Juniper, for example, is aiming at with the introduction of the Career-Tracks at the Associate Level. They start basically where your Career starts without all the possible other areas and technologies. At Cisco, you now need to learn stuff that you will never have to deal with, and that does not give you any benefit at all to get your CCNP with a specialization active – Ridiculous if you ask me. I don't know about you but my time is way too valuable to learn stuff that I will most likely never use – there are too many other interesting, specialized things to learn about to improve myself.
That's why in 2020, the CCNA will most likely be "worthless" because putting 5 Tracks into one Exam just for the sake of reducing the exams is just not the right way, in my opinion. I'm curious about your opinion. Do you think that allrounders are better than specialized Staff? What's your daily experience? Feel free to leave a comment because I'm very, very interested in that.