I promised to deliver this and here it is: OSPF over vQFX 😉
These days I lab a lot with EVE and I love it more every day – the possibilities are endless and the Labs are very very quick configured and running. With 2 new CPU's my EVE now runs with decent Speed so compared to VMware ESX 6.0 there is no extreme performance difference anymore. I can live with that. Since D63 on the vQFX is running very stable and smooth I thought of this small OSPF Lab – I will add more "Quick-Labs" in the Future.
WARNING:
The SRX in Clustermode runs very well on EVE – however there is an optical error. If you build a Cluster, the interface mappings on EVE are completely wrong. This is due to the SRX getting a new interface (em0) as second interface Card – so if you select ge-0/0/0 in EVE, you really select em0.
But why is that you will ask? The answer is simple:
EVE is not aware of Cluster-Naming or Cluster Interfaces – so you have to think twice, what you have to select – I needed Wireshark to see what happened…
From top down the first Interface in EVE is fxp0, the second Interface is em0, the third is ge-0/0/0 or 7/0/0, the fourth is ge-0/0/1 or 7/0/1 and so on (see the Table below from Juniper):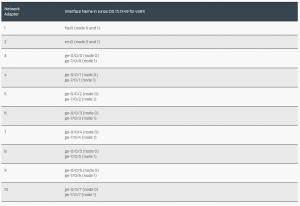 Once I figured that out I could successfully build the Cluster (this time fully working, not just partially) and here is the Lab:
Topology: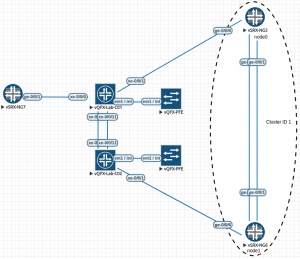 vSRX-NG5+6 (the SRX-Cluster):
set version 15.1X49-D90.7
set groups node0 system host-name vSRX-NG5
set groups node1 system host-name vSRX-NG6
set apply-groups "${node}"
set system root-authentication encrypted-password "$5$i6krJW/Y$G.KrWGkf3RPukhgAVNOJDY0pdCtCd0TTAOKT3/5/4A3"
set system syslog user * any emergency
set system syslog file messages any any
set system syslog file messages authorization info
set system syslog file interactive-commands interactive-commands any
set system license autoupdate url https://ae1.juniper.net/junos/key_retrieval
set chassis cluster control-link-recovery
set chassis cluster reth-count 2
set chassis cluster redundancy-group 0 node 0 priority 200
set chassis cluster redundancy-group 0 node 1 priority 100
set chassis cluster redundancy-group 1 node 0 priority 200
set chassis cluster redundancy-group 1 node 1 priority 100
set security zones security-zone internal host-inbound-traffic system-services all
set security zones security-zone internal host-inbound-traffic protocols all
set security zones security-zone internal interfaces reth0.0
set interfaces ge-0/0/5 gigether-options redundant-parent reth0
set interfaces ge-7/0/5 gigether-options redundant-parent reth0
set interfaces fab0 fabric-options member-interfaces ge-0/0/0
set interfaces fab1 fabric-options member-interfaces ge-7/0/0
set interfaces reth0 redundant-ether-options redundancy-group 1
set interfaces reth0 unit 0 family inet address 10.10.10.2/24
set protocols ospf area 0.0.0.0 interface reth0.0
set protocols lldp interface all
vSRX-NG7 (the standalone SRX):
set version 15.1X49-D90.7
set system host-name vSRX-NG7
set system root-authentication encrypted-password "$5$6X6aODJh$tmTDU.0wKBkuF0tTDeOJQkaHGVUeVXY8RWJMY9BLpDD"
set security zones security-zone internal host-inbound-traffic system-services all
set security zones security-zone internal host-inbound-traffic protocols all
set security zones security-zone internal interfaces ge-0/0/1.0
set interfaces ge-0/0/1 unit 0 family inet address 10.10.10.1/24
set protocols ospf area 0.0.0.0 interface ge-0/0/1.0
set protocols lldp interface ge-0/0/1
Lab-C01 (Coreswitch 01, vQFX running 15.1X53-D63.9):
set version 15.1X53-D63.9
set system host-name LAB-C01
set system root-authentication encrypted-password "$1$YBH6cP7S$QFmKOiVnTEpuot6QaEWYw."
set system services ssh root-login allow
set system services netconf ssh
set system services rest http port 8080
set system services rest enable-explorer
set system syslog user * any emergency
set system syslog file messages any notice
set system syslog file messages authorization info
set system syslog file interactive-commands interactive-commands any
set system extensions providers juniper license-type juniper deployment-scope commercial
set system extensions providers chef license-type juniper deployment-scope commercial
set chassis aggregated-devices ethernet device-count 2
set interfaces xe-0/0/0 unit 0 family ethernet-switching interface-mode access
set interfaces xe-0/0/0 unit 0 family ethernet-switching vlan members vl-10
set interfaces xe-0/0/1 unit 0 family ethernet-switching interface-mode access
set interfaces xe-0/0/1 unit 0 family ethernet-switching vlan members vl-10
set interfaces xe-0/0/10 ether-options 802.3ad ae0
set interfaces xe-0/0/11 ether-options 802.3ad ae0
set interfaces ae0 aggregated-ether-options minimum-links 1
set interfaces ae0 aggregated-ether-options lacp active
set interfaces ae0 aggregated-ether-options lacp periodic fast
set interfaces ae0 unit 0 family ethernet-switching interface-mode trunk
set interfaces ae0 unit 0 family ethernet-switching vlan members all
set interfaces em0 unit 0 family inet dhcp
set interfaces em1 unit 0 family inet address 169.254.0.2/24
set protocols lldp interface all
set protocols igmp-snooping vlan default
set vlans default vlan-id 1
set vlans vl-10 description OSPF-VLAN
set vlans vl-10 vlan-id 10
Lab-C02 (Coreswitch 02, vQFX running 15.1X53-D63.9):
set version 15.1X53-D63.9
set system host-name LAB-C02
set system root-authentication encrypted-password "$1$hy9eoMhU$T.tkfC86QC6LTdln/lYSW/"
set system services ssh root-login allow
set system services netconf ssh
set system services rest http port 8080
set system services rest enable-explorer
set system syslog user * any emergency
set system syslog file messages any notice
set system syslog file messages authorization info
set system syslog file interactive-commands interactive-commands any
set system extensions providers juniper license-type juniper deployment-scope commercial
set system extensions providers chef license-type juniper deployment-scope commercial
set chassis aggregated-devices ethernet device-count 2
set interfaces xe-0/0/0 unit 0 family ethernet-switching interface-mode access
set interfaces xe-0/0/0 unit 0 family ethernet-switching vlan members vl-10
set interfaces xe-0/0/1 unit 0 family ethernet-switching interface-mode access
set interfaces xe-0/0/1 unit 0 family ethernet-switching vlan members vl-10
set interfaces xe-0/0/10 ether-options 802.3ad ae0
set interfaces xe-0/0/11 ether-options 802.3ad ae0
set interfaces ae0 aggregated-ether-options minimum-links 1
set interfaces ae0 aggregated-ether-options lacp active
set interfaces ae0 aggregated-ether-options lacp periodic fast
set interfaces ae0 unit 0 family ethernet-switching interface-mode trunk
set interfaces ae0 unit 0 family ethernet-switching vlan members all
set interfaces em0 unit 0 family inet dhcp
set interfaces em1 unit 0 family inet address 169.254.0.2/24
set protocols lldp interface all
set protocols igmp-snooping vlan default
set vlans default vlan-id 1
set vlans vl-10 description OSPF-VLAN
set vlans vl-10 vlan-id 10
Download this Lab for your EVE here: (Size 16kB, zip-Archive)
EVE-OSPF-vSRX-vQFX-Lab