Just tested the new vSRX D100 Version on EVE and ESX.
Compared to D90 it feels (tested on ESX and EVE) way slower but seems to run very good once booted up (tested IPsec, DHCP-Server, DHCP-Client, Policy, OSPF, BGP and Clustering).
The following Graphic shows the time in seconds that the SXR needed from (Amnesiac) Login to cli prompt: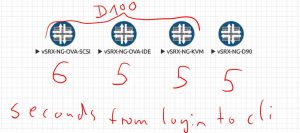 In general the time is almost identical – however the D100 needed significantly longer for boot when compared to the D90.
While the D90 took around 2Minutes from "click on start" to "login prompt", the D100 needed a whooping 8 Minutes and reacted very very slow afterwards. After a night "idle" it was as responsive as the D90. I'm reading myself through the CHangelog, however I could not find a valid reason for this behavior so far.
I will proceed to test the D100 and of course compare D90 with D100 for you to make a good choice for your Home-Labs 🙂